RESIST     INSIST     PERSIST     ENLIST 
---
---
Winnebago County Democratic Party
August 2018

---
Winnebago County Fair – August 1 – 5
The Winnebago Dems will have a booth in the Exposition Center at the Winnebago County Fair (500 E.County Rd Y, Oshkosh) from Wednesday, August 1st through Sunday, August 5th. We are still looking for volunteers to help man the booth for two hour shifts in the day or evening. Contact Mary Tuschl at 920-426-6931 if you are interested in helping out. There are free passes to the fair for our fair booth workers. You also get to talk with friendly folks, learn more about Winnebago County, sign children up to win a free book, and show your support for out Democratic candidates and causes.
---
Campaigns Committee Meeting –

August 2
This dedicated group meets the first Thursday of every month at the office. All interested party members are welcome to join them from 6:00 – 7:00 PM as they continue their efforts to elect Democrats in Winnebago County.
---
Monthly Membership Meeting – August 8
Join us Wednesday, August 8th from 7:00 – 8:30 PM for our monthly meeting. Our guest speaker will be Kat Craney, Field Organizer for the Coordinated Campaign. There will be information on the August 14th Partisan Primary Election and other county party events such as the corn roast. Our meetings are open to everyone and are held the second Wednesday of every month from 7-8:30 pm. All are welcome, you do not need to be a current party member to attend.
---
Partisan Primary Election –

August 14
The Partisan Primary Election is an election for the nomination of a candidate to represent a political party in the November General Election. It will take place across the state on Tuesday, August 14th from 7:00 AM – 8:00 PM. The Partisan Primary does not elect a candidate to office. The candidate with the highest number of votes becomes nominated and is placed on the November ballot for election.
In the August 14th Partisan Primary election a voter may cast a ballot in the primary of only one political party. You may not cross over party lines. You must select a party then cast a vote for individual candidates. Offices on the ballot are Governor, U.S. Senator, U.S. Representative, odd-numbered WI State Senate seats and all WI State Assembly seats. Go to www.MYVOTE.WI.GOV to see what is on your ballot, find your polling location and other voting information.
On August 14th residents in Senate District 19 will have two Democratic candidates on their ballot,  Dan Grady & Lee Snodgrass. Areas of Winnebago County that are in S.D. 19 are the cities of Neenah, Menasha, Appleton (Wards 31 & 32); the towns of Clayton, Neenah, Poygan, Vinland, Winneconne, Wolf River and the Village of Fox Crossing.
Also on August 14th residents in State Assembly District 55 will have two Democratic candidates on their ballot, John Cuff & Diana Lawrence. Areas of Winnebago County that are in A.D. 55 are the towns of Poygan, Vinland, Winchester, Winneconne, Wolf River and the Village of Winneconne.
---
WCDP's Annual Corn Roast – August 25
Our annual corn roast will be on Saturday, August 25th from 12:00 – 3:00 PM in the beach pavilion at Winnebago County Park.  Food will be served from 12:30 – 2:30 PM. The speaker portion will be from 1:00 – 2:00 PM. Speakers confirmed thus far: Josh Kaul, candidate for Wisconsin Attorney General. Ticket prices are: $8/adults and $5/children. Lunch will be fresh grilled corn, hot dogs, hamburgers, chips, desserts & a beverage. Tickets may be purchased in the office or at the park that day. We hope you can make it!
---
Items for the Oshkosh Area Humane Society will be collected this month. Items most needed are: Large sturdy chew toys for dogs, Purina One Smartblend Chicken & Rice or Lamb & Rice Dog Food, Liquid Laundry Detergent, Purina Tender Selects Blend with Real Chicken Dry Cat Food, Magic Erasers, Paper Towels, and Soft Dog Treats (Canine Carry Outs or Pupperoni). Donations may be dropped off during office hours or brought to our monthly meeting! To see other items the shelter needs go to www.oahs.org.
---
Coffee & Conversations – every Wednesday afternoon
Meet new friends and partake in a friendly political discussion with like-minded Democrats on  Wednesday afternoons between 1:00 – 4:00 PM. Come and join the movement! The cup of coffee is on us!
---
To join the party or renew your membership go to www.wisdems.org or call DPW at 608-255-5172. There are also membership envelopes in the office if you would like to mail your dues. If you are unsure of your membership status see Barb our Membership Chair before or after our monthly meeting or contact her at barbarazellmer@gmail.com. Membership levels are: $10/senior or student; $25/individuals; $35/pairs; $45/activist and $75/family. When you join the Democratic Party of Wisconsin you automatically become a member of the Winnebago County Democratic Party.
---
Thank You Bake Sale Donors!
A big thank you goes out to all the people that donated yummy bake sale items and to everyone that volunteered in getting the second annual "Bake For Change" fundraiser up and running. The proceeds from the sale went into our candidate and office funds.
---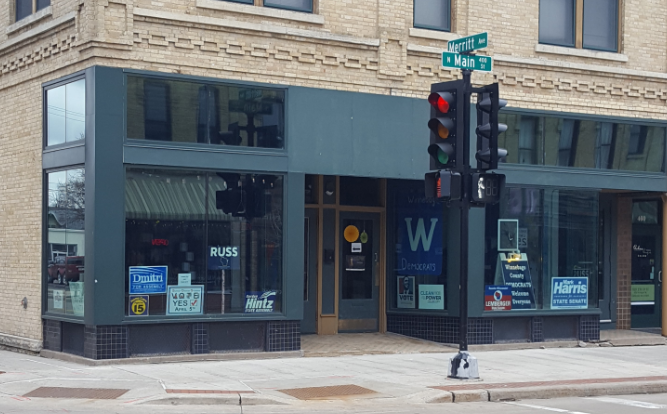 Office Hours
Office hours are: Monday (10-5), Tuesday (10-5), Wednesday (10-5), Thursday, (10-4), Friday (10-4) and Saturday (8-1).
---
IMPORTANT UPCOMING EVENTS
Neenah/Menasha Labor Day Parade –

September 3

Oshkosh Labor Day Celebration & Car Show –

September 3

September Monthly Membership Meeting –

September 12

Pancake Breakfast –

September 15

October Monthly Membership Meeting –

October 10

2018 Fall General Election – November 6
November Monthly Membership Meeting –

November 14

Holiday Bake Sale –

November 15

(during Oshkosh holiday parade)
Valley Victory Dinner –

November 30

December Monthly Membership Meeting –

December 12




---

      
---
Social Media
Help us continue to increase our social media presence on Facebook and Twitter. You can find us on Facebook at  "Winnebago County (WI) Democratic Party" and follow us on Twitter @WinnebagoDemsWI.
---
We would like your feedback on our newsletter. Please take a moment and answer a three question survey that will help us improve our newsletter. CLICK HERE!!!
---
Please go to www.myvote.wi.gov to see what is on your ballot, find your polling location, register to vote, and update your name and/or address.   
---
FYI- We are less than 100 days away from the election. Things move very fast from this point so we are going to send a shorter, mid-month update in Aug., Sept., and October. Lots of timely information that is timely!

---
Please go to

 

www.myvote.wi.gov

 

to see what is on your ballot, find your polling location, register to vote, and update your name and/or address.   
---
 Authorized and paid for by the Winnebago County Democratic Party. Copyright 2018. Marcia Steele,  Winnebago County Democratic Chair
winnbagowidems@gmail.com