---
Winnebago County Democratic Party
August 2018

---
We have 62 days until the most consequential election in our history.
We have TWO asks of you.
First, You need to vote in November AND make sure others. Young adults, grandparents, relatives & friends.  Absentee voting is easy & quick. Turnout wins. Plan now!

Second, we need to expand our membership.  If everyone gets just one more person to join, our voice is doubled!
---
Need Yard Signs?? We have them.
---
---
September 8 & 9
Oshkosh Weekend of ACTION- We need your help reaching out to voters, knocking doors & making phone calls. Saturday & Sunday 9 am at the office.
Tammy will be here at noon on Sunday!!
---
Sunday September 9 
Meet and Greet for Dan Kohl who is running for the 6th Congressional Seat.
4 p.m. to 7 p.m. (Dan will speak at 4:40) Home of Kate Hancock-Cooke & Charlie Cooke, 216 Bosworth Court, Neenah RSVP – rugbykate@new.rr.com or 920-729-6730
Please bring a friend or two. This is an opportunity to meet Dan, ask questions & chat with other voters. This is not a fund raiser, but it never hurts to bring your check book.
---
Sept 12 General Membership Meeting
Join us Wednesday, from 7:00 – 8:30 PM for our monthly meeting. Our guest speaker will be Eliza Cussen, Northeast Wisconsin lead organizer for the Human Rights Campaign. Our meetings are open to everyone and are held the second Wednesday of every month from 7-8:30 pm. All are welcome, you do not need to be a current party member to attend.
---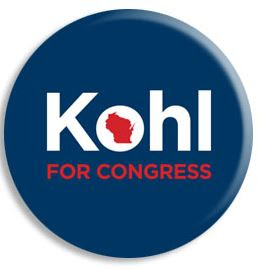 Sept 13th Women for Dan Kohl for Congress.
Friend-raising
.  Meet Stacey Kohl. Invite your friends & co-workers. Hosted by Jean Erdman , Anne Romond, Susan Jansen & Carol Meeuwsen Jones.  RSVP 
anneromond@yahoo.com
  415 S Meadow St.
---
September 15

 Pancakes with Progressives
At the office. Breakfast is unlimited pancakes and fun. Coffee, juice and sausage. Come for the pancakes but stay for the conversation.
8am- 12 noon
Oshkosh Farmers Market starts right after this!
---
Coffee & Conversations – every

Wednesday

afternoon
Meet new friends and partake in a friendly political discussion with like-minded Democrats
on  Wednesday
afternoons between
1:00 – 4:00 PM.
Come and join the movement! The cup of coffee is on us! Winnebago Dem office.
---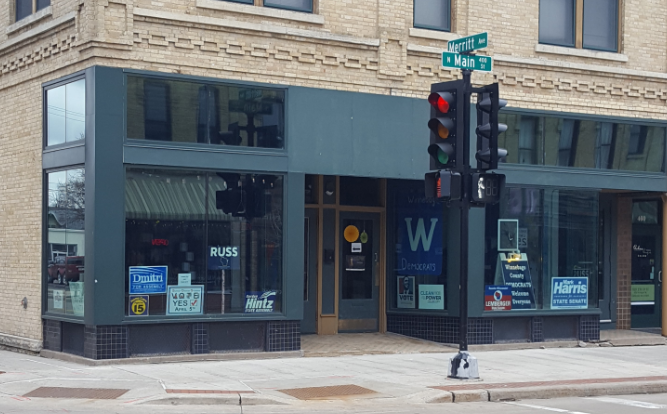 Office Hours
Office hours are: Monday (10-5), Tuesday (10-5), Wednesday (10-5), Thursday, (10-4), Friday (10-4) and Saturday (8-1).
---
October 6
UAW local 578/ WCDP Meet the Candidates at the UAW union hall 9-12. Local candidates, Tony, Mandela, Josh Kaul, Dan Kohl, Tammy have all been invited. $10 per person which includes lunch. Proceeds to WCDP. UAW Union Hall 2920 Oregon, Oshkosh
October Monthly Membership Meeting –

October 10

2018 Fall General Election – November 6
November Monthly Membership Meeting –

November 14

Holiday Bake Sale –

November 15

(during Oshkosh holiday parade)
Valley Victory Dinner –

November 30

December Monthly Membership Meeting –

December 12
---
Membership 
Help us reach our goal of 200 by either joining or renewing your membership at  
www.wisdems.org
or by contacting DPW at 608-255-5172. There are also membership envelopes in the office if you would like to mail your dues. If you are unsure of your membership status see Barb our Membership Chair before or after the monthly meeting or contact her at
barbarazellmer@gmail.com
. Membership levels are: $10/senior or student; $25/individuals; $35/pairs; $45/activist and $75/family.
When you join the Democratic Party of Wisconsin you automatically become a member of the Winnebago County Democratic Party.
---
Social Media
Help us continue to increase our social media presence on Facebook and Twitter. You can find us on Facebook at  "Winnebago County (WI) Democratic Party" and follow us on Twitter @WinnebagoDemsWI.
---
Please go to www.myvote.wi.gov to see what is on your ballot, find your polling location, register to vote, and update your name and/or address.   
---
Authorized and paid for by the Winnebago County Democratic Party. Copyright 2018. Marcia Steele,  Winnebago County Democratic Chair
winnbagowidems@gmail.com
Copyright © *2018 Winnebago County Democratic Party, All rights reserved.